14 Days Money Back Guarantee.
Flash Sale: Get -70% Off
"This stuff is amazing, is great to use so easy in that you can work while using it. It's working perfectly, I just used it couple of times, but it really worked. I feel the cervical column more relaxed. I do not feel the tension in my muscles."
"I had so much neck pain that I couldn't even sleep properly. This thing changed my life. the TENS Technology is so nice, I use it 3 times a day and the battery is still charged. Customer service is excellent. Took 7 Days to arrive."

"Since I've been teleworking, I've been having a lot of neck pain because I spend so much time in front of my computer. This product is magical: no more neck tension, no more stiffness: my neck is relieved!"
"Just got mine few days ago, very easy to use, just take the remote control, sit down, relax and let your Cylexo Pro relieve your neck pain. The remote control is really nice, the battery is crazy. I love it! The customer support is amazing.

Experience the ultimate Neck & Shoulder pain relief
Many people suffer from neck pain for different reasons. Some have Injuries whether it is from an accident or heavy lifting some have bad sleeping posture or strenuous jobs while others have been used to use modern technology which just is not designed today for human comfort.
The repetitive use of computers, tablets, and smartphones causes your head to lean forward which increases the pressure and it becomes up to five times heavier causing headache, neck pain, poor posture, fatigue, poor blood circulation to the brain, and much more.



Cervical traction is an effective & therapy for neck pain and tension relief and a number of other medical conditions affecting the neck and spine.
Regular visits to a physical therapist for manual cervical traction are often too expensive & for most people and many are fed up with using medication and all the side effects.
Hypertrax™ is the world's first state-of-the-art multifunctional at-home cervical care system, designed to alleviate neck and shoulder pain, keep cervical vertebra active, prevent cervical spondylosis and retain a proper posture making you feel fresh and invigorated.
Completely SAFE with ZERO medications!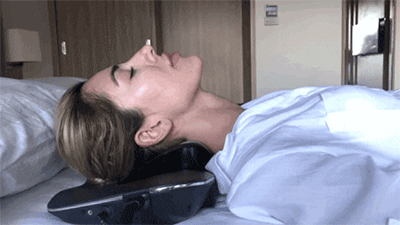 Hypertrax™ utilizes a combined Fixed Point Traction and Intelligent Air Pressure Traction system to restore the 26-degree optimal vertebral arch.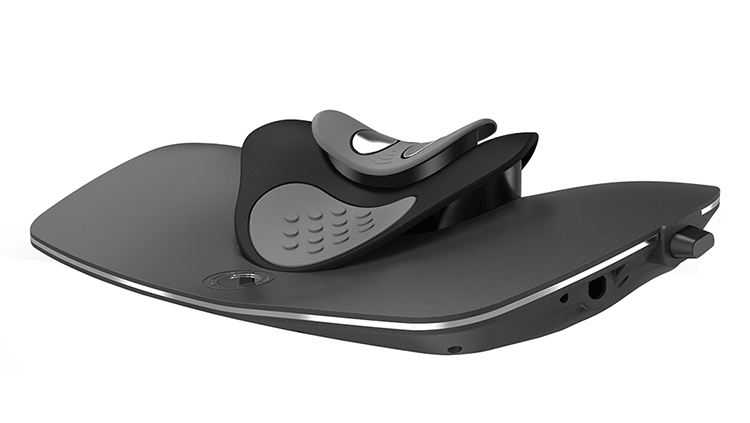 We have brought this intelligent Innovative device that lifts all the pressure, hydrates the discs in your neck, and generally improves your posture and overall comfortability of your neck muscles.
With medically proven therapy and patented technology, Hypertrax™ relieves soreness, fatigue, relaxes neck muscles, helps to treat degenerated, bulging, and herniated cervical discs.


Alleviate Bulging or Herniated Cervical Discs

Relief from Pinched Nerves

Improves Flexibility and Ranges of Motion

Helps to Treat Whiplash Injury

Loosens Up Your Muscles and Stretches Your Neck


Helps avoid dangerous surgeries and reduces the frequency of visits to the doctor
Hypertrax™ gently stretches the neck helps to hydrate discs, increases blood circulation, and is designed to restore the natural curve of the neck.
Hypertrax™ works with four functions;
True Dynamic Neck Traction

Auto Modulating Technology
True Dynamic Traction creates expansion between the head and the neck, separating the vertebrae to relieve pressure between discs or off of the compressed nerve, stretching the surrounding joints and muscles, and improving blood circulation.

The Intelligent Constant Temperature function accelerates blood flow through the spine to the brain.
The electrical impulses and the heat generated by Hypertrax™ into your neck directly hit the pain points stimulates the muscles, allowing them to soften and go back to their original form.
Hypertrax™ has been carefully engineered to provide maximum comfort, efficiency, and ease of use and truly makes it possible for anyone to have a professional physiotherapy device at home.
By gently stretching and decompressing the spinal cord, it helps to increase blood circulation to the structures of the cervical spine, oxygenate the surrounding muscles, relieve pain while promoting relaxation.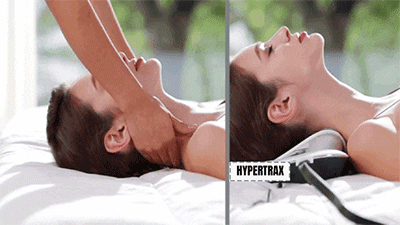 Hypertrax™ helps users keep the proper physiological posture by creating a comfortable platform for the cervical spine.
The unit's ergonomic design and the 26-degree elevation arch thrust contour the curvature of your neck seamlessly.

WHAT MAKES HYPERTRAX™ SO UNIQUE?
Unlike many advertised static traction pillows or a low-quality neck traction device that claims miraculously solves all your life troubles in an instant with no proper, accurate movement, our device's Bidirectional Motion Technology creates true dynamic traction.
It leaves the cervical spine free to stretch, opens the 7-section cervical vertebrae evenly between the motion, and restores the cervical vertebrae's vitality.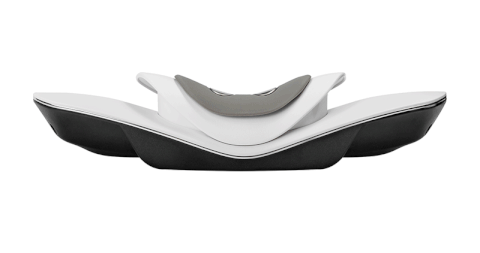 Patented, Intelligent dual rise and release traction is the most effective and satisfying tension relief we can now have in the comfort of our home.
The device creates expansion between the head and the neck, separating the vertebrae to relieve pressure, reducing the pressure between discs or off of a compressed nerve, as well as by stretching the surrounding joint structures and muscles, supplying oxygen to the brain by improving blood circulation to the spine.
With its Bidirectional Curve Traction, it pulls apart vertebral space evenly and treats different causes of neck pain, tension, and tightnes helping to relax the muscles, which can significantly relieve pain and stiffness while increasing flexibility.

Simultaneously Gives Two Different Degrees of Elevation. Optimal Pull and Rise Pressure Release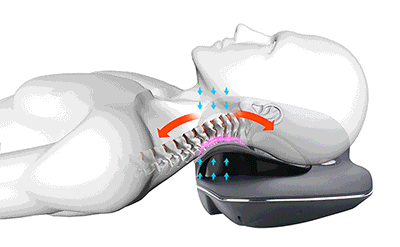 Hypertrax™ features 3 rhythmic automatic modes to adjust and correct neck bone up to 4 inches / 10cm;
Comfortable Relaxation Mode
With the help of a controller, each mode combination can be adjusted according to the user's own feelings and preferences.
These improvements may lead to enhanced mobility, range of motion, alignment, and allow you to go about your daily activities with greater ease and comfort.
Hypertrax™ provides 3 adjustable temperature settings to comfort the individual preference and apply soothing heat therapy to aching neck muscles.
Uniquely designed to target the muscles in the back of the head and neck, it contours to the shape of your neck to provide targeted relief.
This heating therapy delivers gentle heat to tender muscles, increasing blood flow, and allowing muscles to relax.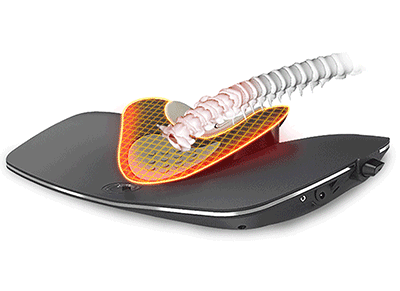 Combine Traction along with Heating to help treat Pinches, Stiffness, Tension, Strains, Increasing blood flow, Relaxing spasms, and Soothing muscles.
When the temperature reaches about 50°, the device locks automatically to avoid applying excessive heat.

LOW-FREQUENCY PULSE ELECTROTHERAPY
The built-in pulse generator sends electrical impulses to the spinal cord, stimulates and regulates the nervous system helping to ease tiredness, promote blood circulation, enhance immunity, improve sleeping quality and activate collaterals to relieve your body pain.
The device utilizes Bionic TENS (Transcutaneous Electrical Nerve Stimulation) which penetrates 1.2-2 inches / 3-5 cm deep into the skin and directly hits the pain point.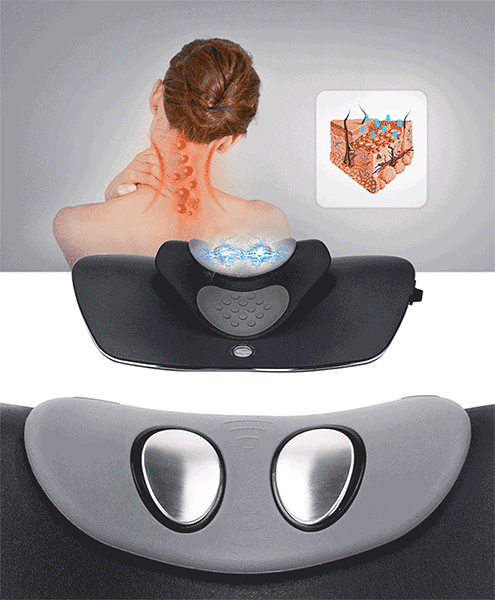 The device quickly opens up the human body meridians through the frequency conversion impact.
The 12-speed low-frequency intensity and 3 combinations of Beat, Acupuncture, Beat, and Acupuncture Combination, can be adjusted according to the user's own requirements and preferences.
FULL BODY MASSAGE THERAPY
Hypertrax™ comes with external electrode pads that can be applied to different parts of the body, such as legs, back, feet, joints, arms, and etc.



The air pump is located inside the controller, away from the user, reducing noise and creating a more comfortable environment to ensure the user can enjoy the pleasure of massage quietly.
When in use, some users may even easily fall asleep in a comfortable environment !
To ensure the user's safety, the device is set up to auto power-off after 15 minutes.
ALL IN ONE & EASY TO OPERATE
Combine all 3 functions at once or adjust the heat and traction individually with the help of an intelligent handheld controller.
Each function and frequency combination can be adjusted according to the user's own feelings and preferences

Hypertrax™ comes with 3 major safety features:
Airbag overshoot protection: Automatically stops inflating when the airbag is over-inflated.
Auto-reset: Automatically turns off if stays idle for 15 minutes.
High-Temperature Protection: The device automatically locks when the temperature reaches 40-50 degrees and stops overheating.

1 x Hypertrax™ Cervical care system
1 x Power adapter
1 x Controller
2 x External electric pulse pads
1 x External electric pulse cord
1 x Users manual

Our Customers loves us, here's why:

Regulated TENS Technology, 100% safe

1600 mAh Powerful Battery, lasts up to 30 days

Quality control for your safety

European Customer Service

Free Shipping (7-21 Days)

14 Days Money Back Guarantee
No remote control included

Unregulated Technology, which can be dangerous

Small 600 mAh Battery, lasts 1 day

Charges for Shipping (30 Days+)

Cylexo™ comes with an unconditional 100% money back guarantee: try it for 14 days. But we don't stop there!
We assure you that your pain will be history thanks to our Cylexo™ and that its comfort and effectiveness is like nothing you've tried before. You will live a unique experience and you will be able to say goodbye to your recurring fatigue.

This is why the Cylexo™ team has decided to combine the best of traditional Chinese massage techniques with a unique device made of high quality materials and ultra modern design. Our team is composed of passionate practitioners of massage and relaxation.


Transform relaxation, transform lives. We believe in it. If you decide that Cylexo™ and our product have not improved your daily life and soothed your pain, do not hesitate to contact us at contact@cylexo.com and we will be happy to give you a full refund.

We would not feel comfortable keeping your money if you are not satisfied, which is why we make the refund process as simple as possible.


The delivery time depends on your country of residence. We offer free shipping + tracking worldwide. You can therefore track your order at any time from the order confirmation page.
Switzerland: 7-15 days
France: 7-12 days
Belgium : 7-12 days
Luxembourg: 7-21 days
Canada: 15-21 days
United States: 15-21 days
Rest of the world: 15-21 days
Frequently asked questions
Using the Cylexo intelligent massager is very simple: put it around your neck and choose your favorite massage program with its remote control. Each program has a different objective: relaxation, relaxation, nervous stimulation. Choose your level of resistance among the 15 proposals via the remote control. The 1600 mAh battery has an incredible autonomy: enjoy 30 massages of 15 minutes.
Can I use it if I have osteoarthritis or arthritis?
Absolutely: the Cylexo massager has been designed to relieve all types of neck pain. The electrosimulation is ideal to stimulate the nerves and relax the painful points.
Can I use it while sleeping or resting?
Yes absolutely! Cylexo takes the shape of your neck and therefore adapts perfectly to it. The program stops automatically after 15 minutes of use so you don't have to worry about it.
Is the Cylexo massager quiet?
The Cylexo massager has been designed so that you can use it with complete peace of mind and discretion. It does not make any noise during its use.
You won't even feel it! This one weighs only 400g. It is therefore very easy to carry and pleasant to wear.
How many 15-minute sessions per day do I need to do for this to be effective?
Depending on your pain, we recommend between 1 and 5 sessions of 15 minutes per day.
Yes, Cylexo can be recharged via any micro-USB cable.
Absolutely! Its featherweight of 400g combined with its small size make Cylexo really portable and discreet.
Can I use it if I have a Pacemaker?
No. It is very dangerous to use any type of electro-stimulation device if you are wearing a Pacemaker.